It just doesn't seem like this week is already THANKSGIVING!!! does it? After visiting the black friday website to see what everyone is offering on sale this friday morning i really didn't see anything that would justify heading out and battling the crowds...did i tell you i was smashed into the moving door frame two thanksgivings ago...half of me was stuck in the hall and half of me was in the store....all started when we were calmly waiting in line (got there at 5) and as the opening time crept forward...people started getting out of their cars and cutting to the head of the line...and people from the back of the line started yelling "DON'T LET THE SCABS IN!!!!" AND THE LINE PUSHED FORWARD AND I WAS LITERALLY PICKED UP AND MOVED FORWARD......people just kept surging and keeping me pinned in place...it was positively terrifying...i had a bruise right up my chest wall bone...no one would stop to help...poor shannon was already in the store and she was screaming that someone help me...they kept pushing her back into the store...EVER SINCE THEN i don't go out...and shop...NOTHING is worth that again....and now with the whole toy scare...

i did make a christmas ornament this week...i couldn't get a good photo of it...it is just beautiful in person...i amazed myself!!!




I also made tiny pillows and tucked in a poem i wrote into a back pocket of each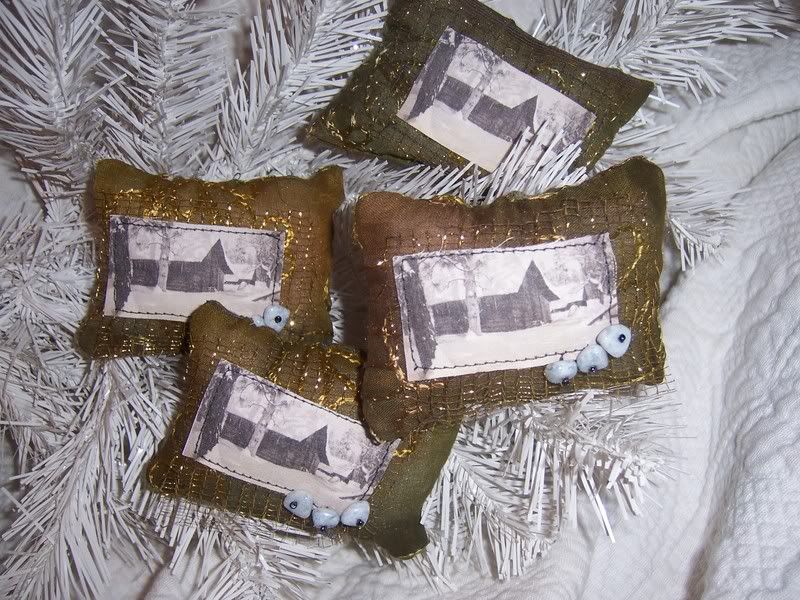 the poem that is tucked into this pillow reads:


where does life start
when is life done
is nature but a shadow
painted by the autumn sun

belonging to noone
property lines can be drawn
but shadows live and thrive
from the dusk to the dawn

they come and they go
between sun and the moon
changing shape, length, and size
then it's over too soon.


my second set of pillows (there are 4 but i only photo'd one) are made of vintage silk which was originaly a vintage skirt...and i added a beaded wire heart that i made...




Have a peaceful evening...until next time

HUGZ