..and tonite it is forcasted to be in the mid 40's...the mornings have been crisp...fall has arrived! Maddysen went to the pumpkin farm with her first grade class...




The fresh air of the all day fieldtrip made her quite sleepy! She fell asleep in the car within minutes of me picking her up from school! I let her have a rest as we headed out to her dance classes...

Maxx has not experienced a pumpkin before..lol...there was big sister, maddysen, warning him of the "pricklies" on the stem..."oh maxx, don't touch there because you will get stuck!"...but maxx just couldn't resist...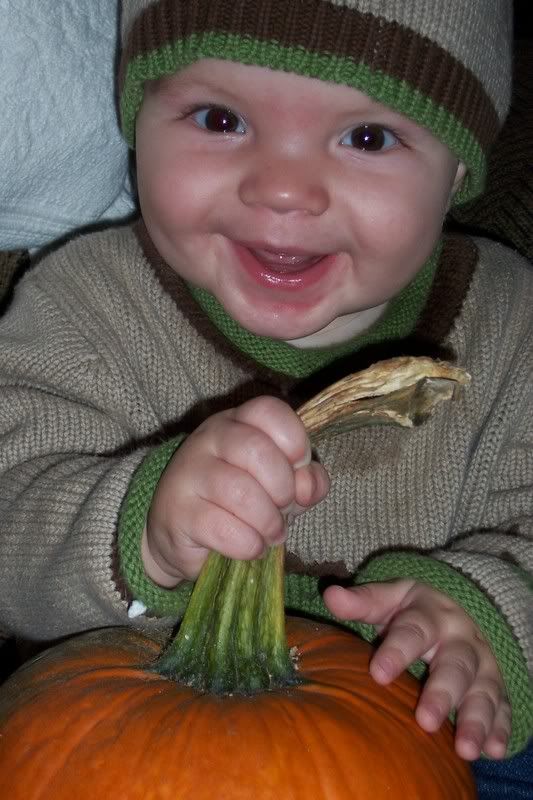 Maxx sprouted two new teeth on top...we discovered them this morning...!!!
Happy 9 month birthday to him today!!! He is growing soooo quick...

I finished up an altered book spread...It's hard to see from the photo...I pieced the background from tiny pieces of purple handmade papers then sealed them then washed over a white glaze for a bit of shine and bordered the pages with chrome paint (so shiny!!!). I wrote a poem last year that just seemed to fit the theme of the book..."What gives your heart wings?"...

My heART, My life
...allow me to float on the gentle breeze
created by the rapidd excitement of my fluttering
heART wings as I begin to know
I AM LOVED...

...allow me to wrap myself in the warmth of creative excitement that envelopes each birth of art
BECAUSE....
...you are my refuge from life's storm
...you are the prescription for my pain
...you are the sanctuary that feeds my Soul
because of you.......
......................I feel SPECIAL!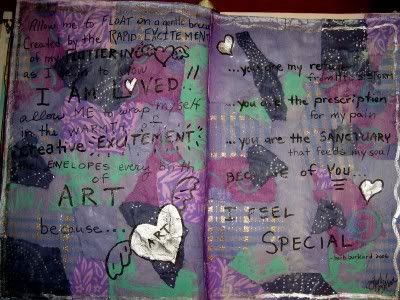 My art has taken me on a journey that I never expected to make...I am driven by an internal force that pushes me to create more...that force has an insatiable hunger. As I walk on I have gathered bits and pieces to alter my path into a beautiful work in progress...Everything meant to be discovered exactly as I do. People meant to be met are welcomed at the precise moment they are meant to be...

as they are a part of the me i have become!

hugz