Danielle's friend, kori, came over for maxx's birthday party...she brought along her doggie, HAPPY! Maxx didn't know exactly what to think of the doggie! Happy was sooo good with him!

hi maxx...good to meet you!





hmmmm you smell good, maxx....is that CUPCAKE I SMELL? OR JUST BOY?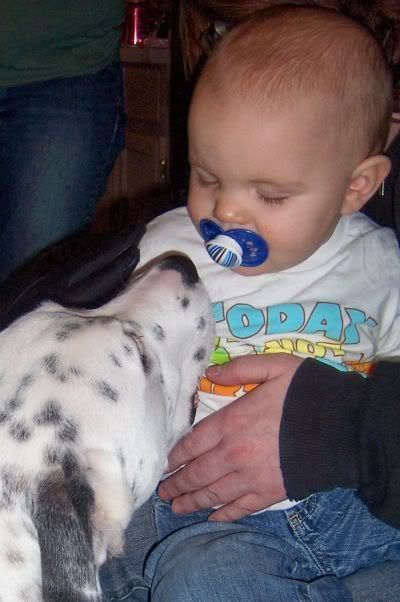 HOW ABOUT SHARING SOME?




WELL NOW FOR THE HAPPY NEWS... (and you thought it was the doggies name that was the HAPPY news..lol

this is KORI




ISN'T SHE BEAUTIFUL? she and my danielle have been friends for a lonnnnnnnnnng time...

and now kori and her hubby, tony are going to be PARENTS!!!!!! they are due october 10th! (and actually when i was pregnant with shannon october 10th was my due date!!)

CONGRATS TO YOU ALL!!!


the storm is upon us...it was supposed to start at 3 yesterday afternoon...well no...it got stalled...woke up this morning to maybe 3 or 4" of snow...but it's just starting...they are now guesstimating like 18"...we will see...don't know where the heck we will go with it...all...the piles by the streets are VERY HIGH now!!!
At last check there were 731 closings...

hugz and snowy wishes to you all til next time!