didn't have much to do today...except watch the snow pile up...and ART!

I did two spreads for two different groups...the first spread is for my niece, Debbie. Well first let me tell you a bit of a story...i got all gung ho in january doing her page spread...and i loved her theme...SHIRLEY TEMPLE...well here are the pages i did for her...

LEFT PAGE




RIGHT PAGE




i was sooo happy with these pages...so pink and sparkly...and sooo SHIRLEY!!!
i gave them to deb and she goes.."uh, my 8 x 8 theme is VINTAGE WEDDINGS!"...the shirley theme is her GOTHIC ARCH...which i'm not doing...lol...hence she got the covers to her gothic arch book!

Well deb...here are the VINTAGE WEDDING 8 X 8'S!!! WOO HOOO! DONE!!

LEFT PAGE...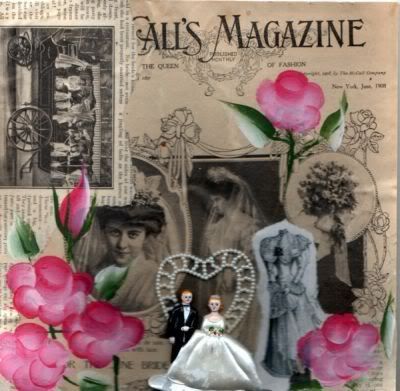 RIGHT PAGE...





AND HERE IS AN 8 X 8 SPREAD WITH AN ALTERED RECIPE THEME...entitled
"PRECISE MEASUREMENT IS THE KEY...dab, pinch, smidge"

LEFT PAGE...




RIGHT PAGE




I hand drew and painted the mixer since i couldn't find any i really liked...


AND THE SNOW KEEPS FALLING...AND FALLING AND FALLING......hmmm maybe tommorrow will be another art day!

hugz once again...