savoring the moments...
after a long nite of birthday party....sirr maxx slept in this morning...and was a bit late in coming over to draw a name...

he dined on macaroni and cheese and the wait staff came over to sing happy birthday to him




and bring him a huge ice cream sundae!!!




that lead to this...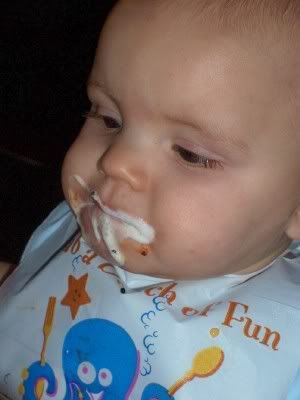 it was a HAPPY BIRTHDAY!!!




soooo on to other business at hand...

the winner is......(drumroll sounding in the background....)


big sister watching over the selection....and taking the paper from his hand so SHE could read it...

"NONNIE, IT STARTS LIKE MY NAME BUT I CAN'T SAY IT"
YOU SPELL IT....................


M-A-I-J-A
MAIJA!!!!!!!!!!!!!!!!

congrats to maija!!!!

i'll get it out in the mail on monday to you!

these giveaways are sooo much fun! thinking we will be doing lots more! and more often!

BIG HUGZ TIL NEXT TIME!

barb, sirr maxx and the official overseer princess maddysen...