I SOOO LOVE VALENTINES DAY!!! MY FAVORITE HOLIDAY! this year i am in several swaps for the holiday! i didn't get a chance to photo the vintage valentine swap...didn't have the camera and i wanted to get it out to lisa! so it will be a suprize for her!
here are a couple of the swaps i have done...
the first one is the valentine box swap...my partner is Genevieve...and her daugher, Isabelle!
this is the outside of Genevieves box...



and here is the inside...



miss isabelle will have to be suprized with hers...as again didn't have the camera...lol..thinking the kids need their own...so they won't have to use MINE! LOL

another swap is thru one of the yahoo groups i'm in...

we were to create a fabric cone and embellish it...SAMMY is my partner...i used all kinds of vintage goodies on the outside and then made a mothie doll and named her cupid and tucked her into a pocket in the inside...the pocket i made from some of a pocket from a vintage suitcase pocket.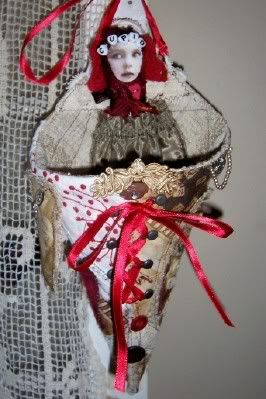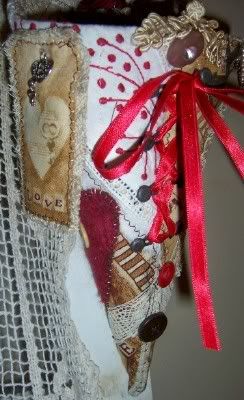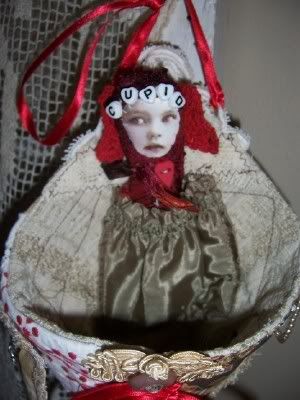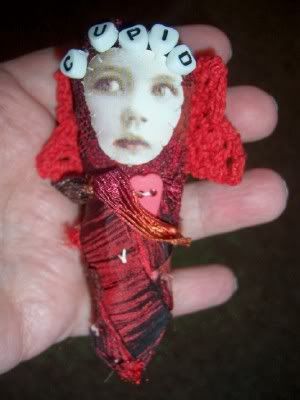 then i filled the cone with all kinds of goodies...NO PICS OF THIS ON PURPOSE..LOL..

next project is a doll swap and the paper doll shrine swapping out the fabric wands that i am hosting and then collecting the button cards that are also a swap i'm hosting...and they are all glorious!!! art keeps me OUT OF TROUBLE...LOL

HUGZ TIL NEXT TIME!